The Need:
Norton Packaging partnered with Conveyors
& Drives to design and implement a conveyor
system to safely move 5-gallon plastic pails through a very tight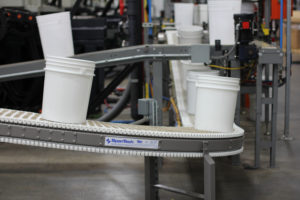 space without hindering the forklift traffic aisle. Space was very limited so a tight radius curve and slight elevation were used to
avoid the product hitting an overhead conveyor. Because space was limited, the application required a conveyor that could quickly curve and change elevation in a minimal amount of space.
The Industry/Company:
Norton Packaging produces the industry's
most innovative and dependable containers.
The unique injection molding process used by
Norton enables superior precision and
unmatched structural integrity.
The Product/Solution:
Conveyors & Drives installed the SpanTech Helical Curve Conveyor which has the most aggressive elevation change to curve radius. This conveyor, due to its unique design, was the perfect solution for the awkward path required!
The Result:
Conveyors & Drives provided Norton Packaging with a conveyor system that allowed the buckets to move perfectly through the limited amount of space leaving the driveway clear for the forklift.